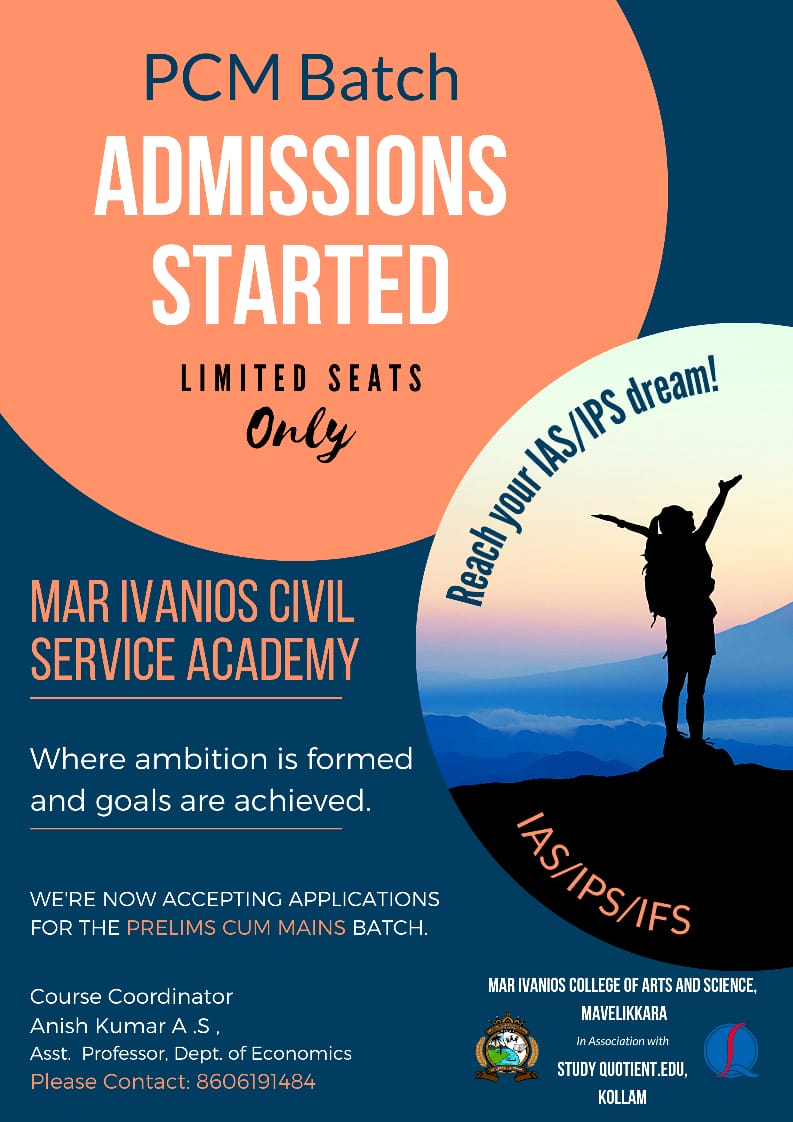 Mar Ivanios Civil Service Academy
---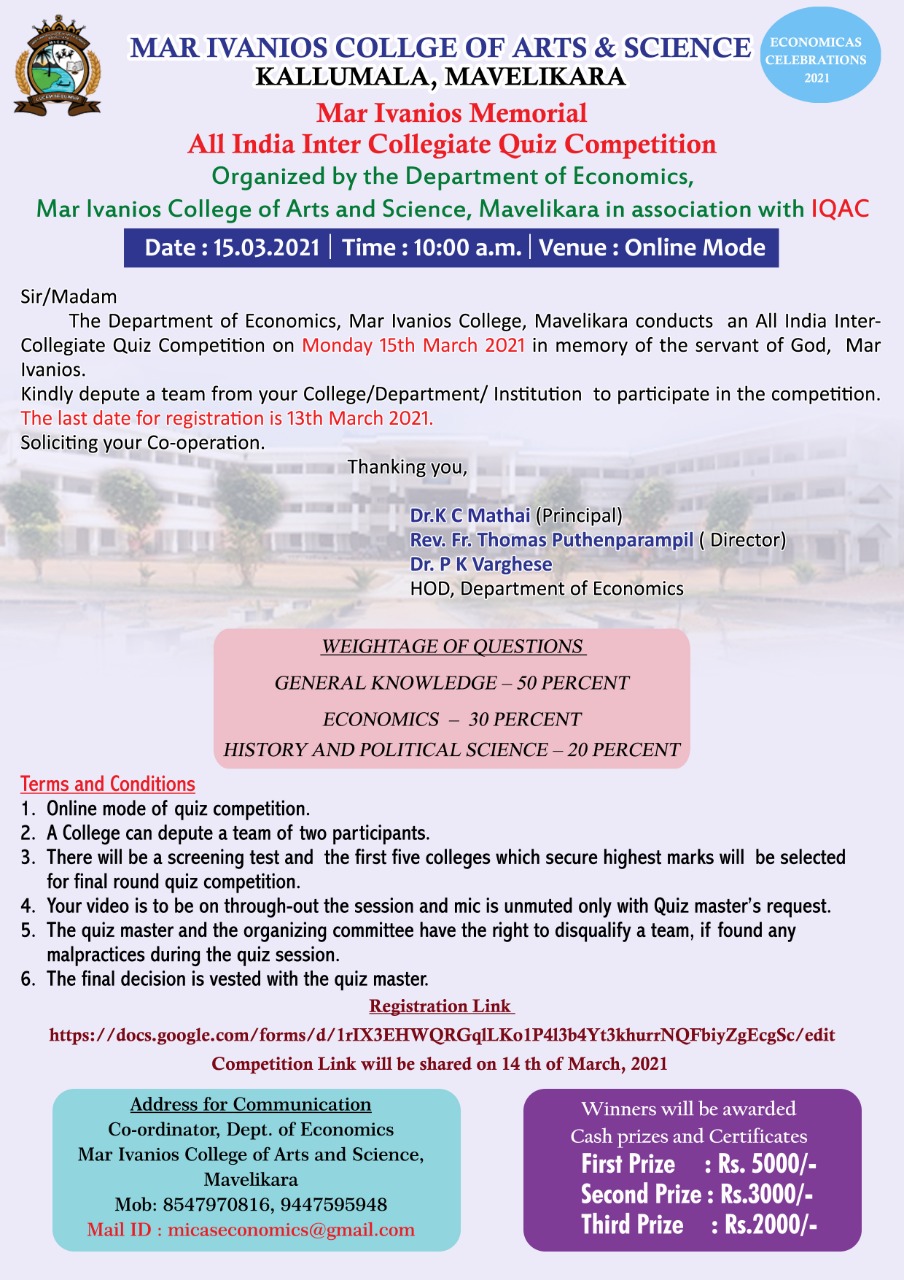 Mar Ivanios Memorial All India Inter Collegiate Quiz Competition
Sir/Madam The Department of Economics is conducting an all India Inter-Collegiate Quiz Competion on Wednesday 10th March 2021 in the memory of the servant of God, MarIvanios. Kindly depute a team from your College/Department/ Institution to participate in the competition. The last date for registration is 8th March 2021. Soliciting your Co-operation Thanking you, Dr.K C Mathai(Principal) Rev. Fr. Thomas Puthenparampil( Director) Dr. P K Varghese HOD, Department of Economics
---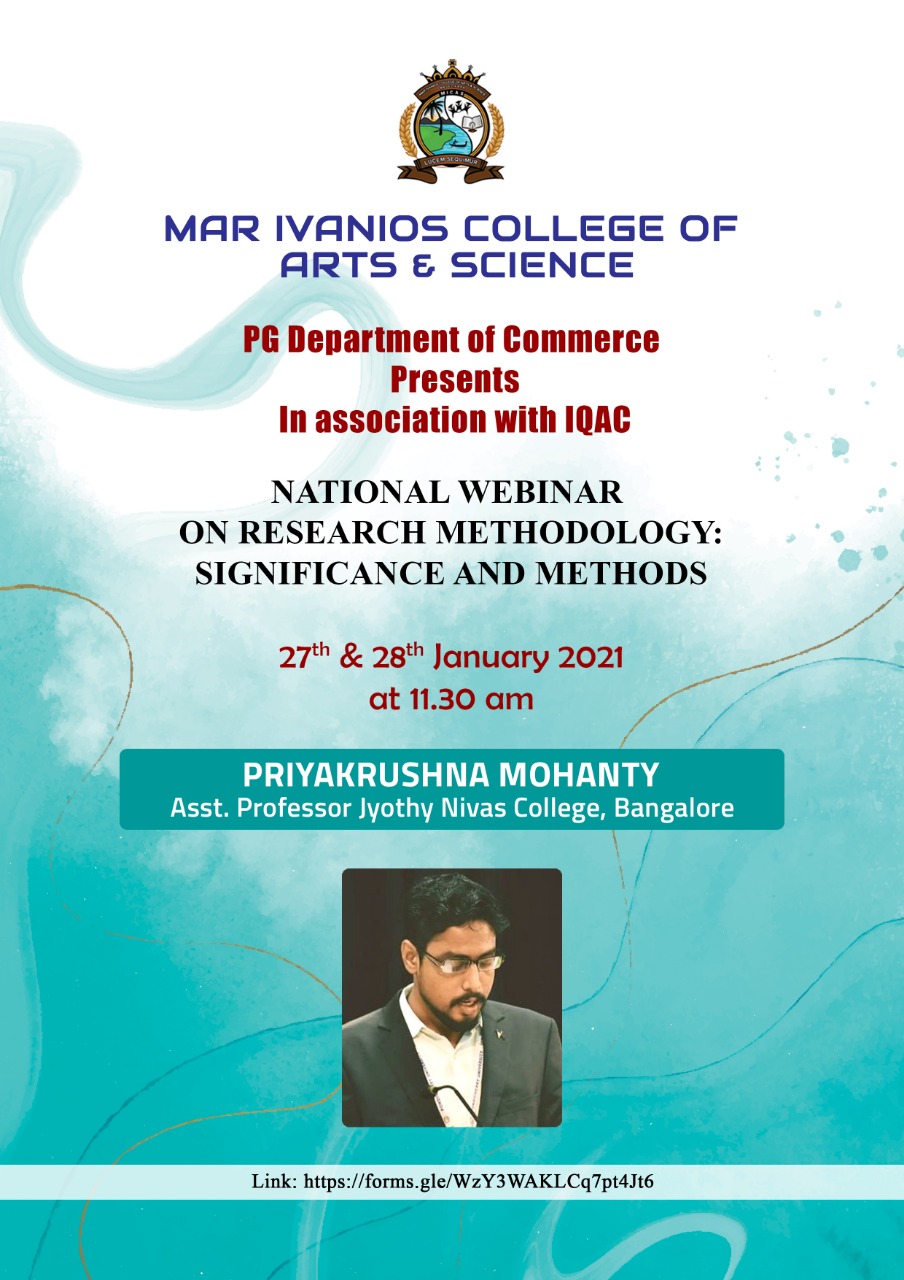 NATIONAL WEBINAR
Dear Sir/Madam Greetings from Mar Ivanios College of Arts and Science, Mavelikara The PG Department of Commerce  is organizing a two day National Webinar on the topic " Research Methodology : Significance and Methods" on 27th and 28th January 2021. Shri. Priyakrushna Mohanty, Assistant Professor, Jyoti Nivas College, Bangalore will lead the programme. We would like to invite your institution to be a part of this webinar. Students, Faculty members and Researchers can participate. Time : 11.30 am NOTE : Limited seats are available. Register as early as possible. Admission on first-come first-served basis Webinar registration link:  https://forms.gle/WzY3WAKLCq7pt4Jt6 Last date and time for registration : 25/01/2021, 5.00 PM Meeting link will be send to your registered E-mail. Printable E-certificate will be issued after the submission of feedback form. For more details, reach us through commerce.marivanios@gmail.com 9656654122 Regards Team Commerce
---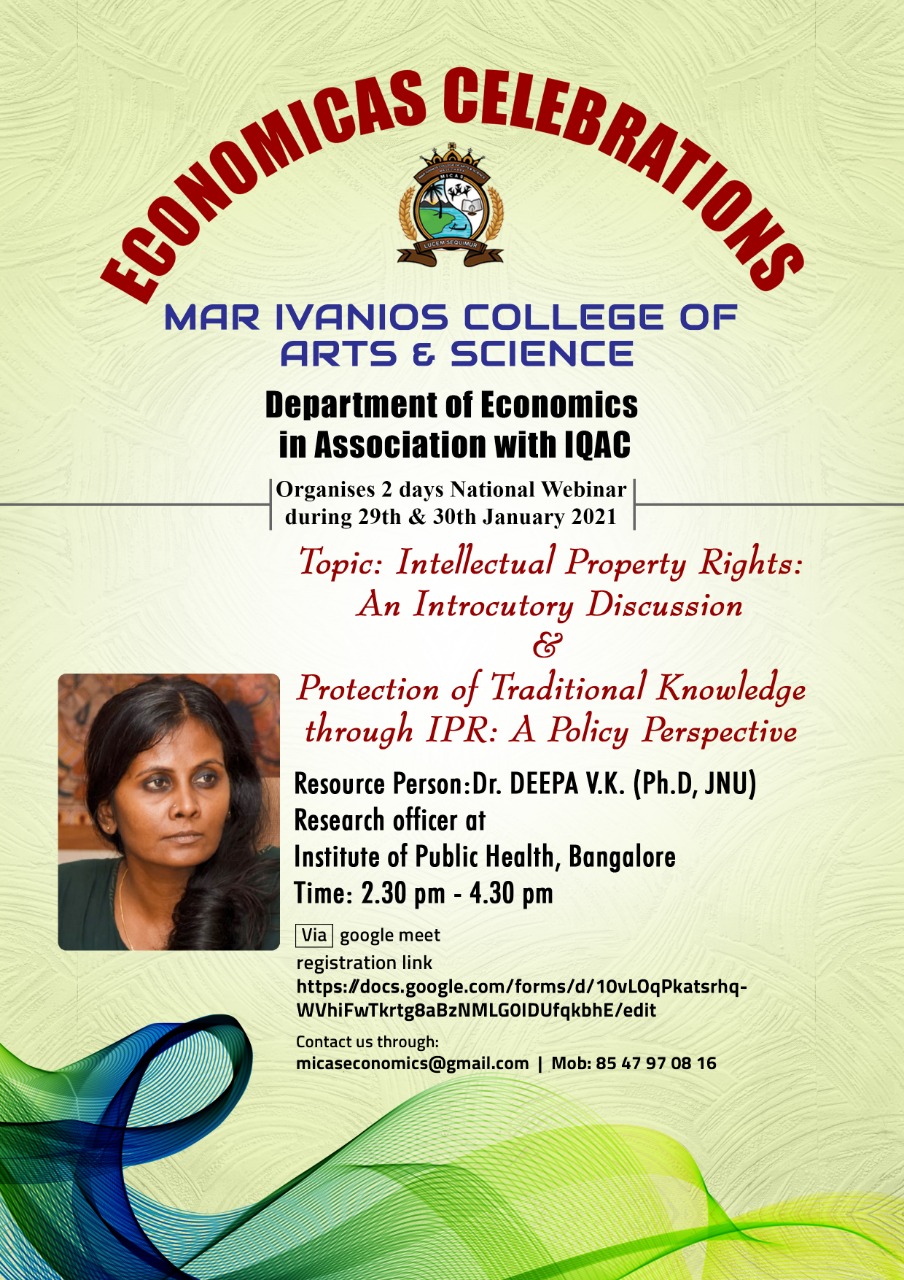 National Webinar
Dear all. The Department of Economics, Mar Ivanios College of Arts and Science, Mavelikara (In association with IQAC) is organizing two days National Webinar on the topics Intellectual Property Rights: An Introductory Discussion and Protection of Traditional Knowledge through IPR: A Policy Perspective to be delivered by Dr. Deepa V K (Research Officer, Institute of Public Health, Bangalore) on 29th and 30th January 2021.We would like to invite you to be a part of this webinar. Time: 2:30 pm For registration, kindly submit the form attached. Participation is free, but limited to 100 participants. Webinar registration ink : https://docs.google.com/forms/d/10vLOqPkatsrhq-WVhiFwTkrtg8aBzNMLG0IDUfqkbhE/edit Last date for registration : 28/01/2021 Meeting link will be sent to your registered e-mail ID. Printable e-certificate will be issued after the submission of feedback form. For more details contact us through micaseconomics@gmail.com
---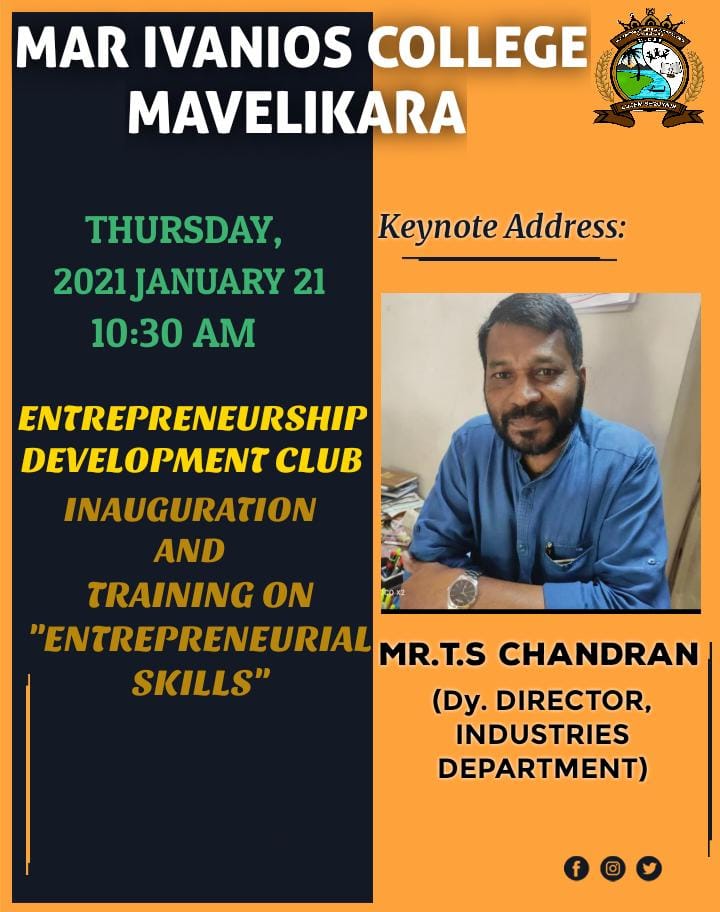 Entrepreneurship Development Club Inauguration
The formal inauguration of our ED club activities will be held at 10:30 am on Thursday, 21st January 2021. Rev. Fr. Thomas Puthenparambil, Director will inaugurate the program, presided over by Dr. K.C Mathai, Principal. Shri. T.S Chandran ,Dy.Director Industries Department will make the keynote address and will conduct a training on "Entrepreneurial Skills". All are cordially invited. JINCY JOHNSON Convenor
---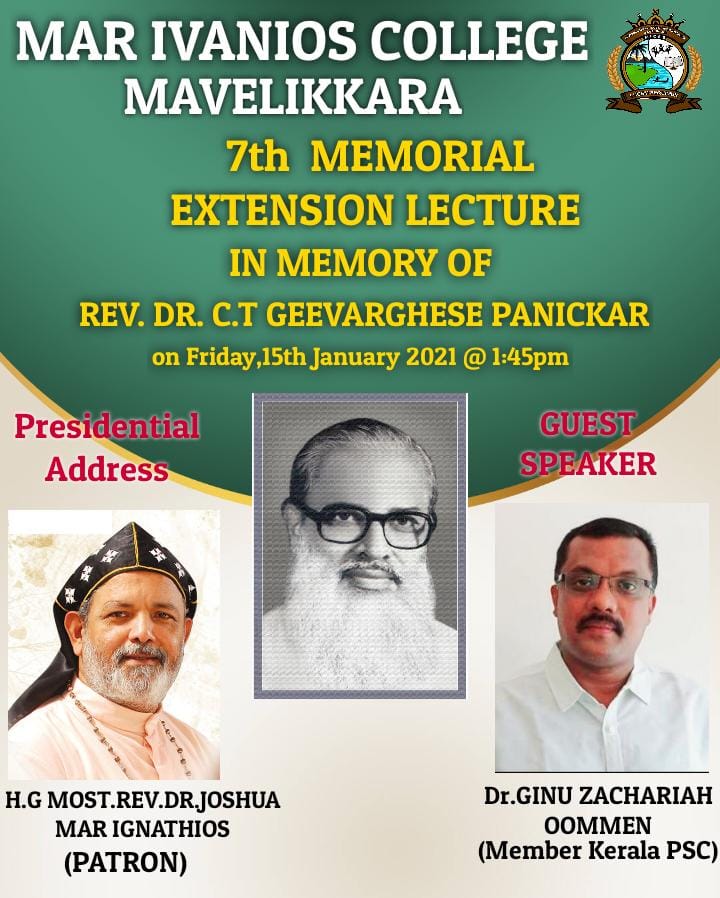 7th MEMORIAL EXTENSION LECTURE IN MEMORY OF REV. DR. C.T GEEVARGHESE PANICKAR
Our college is conducting the Seventh memorial extension lecture ofRev. Dr. C.T GeevarghesePanickerat the seminar hall on Friday 15th January 2021 at 1.45pm. The function will be presided over by His Grace Most Rev. Dr. Joshua Mar Ignathios, Patron and Manager of our college.Dr. Ginu ZachariahOommen (Kerala PSC Member) is the guest speaker on the occasion We the management, the staff, PTA and students of the college invite you cordially to the offline / online lecture. In this COVID-19 situation limited participants are allowed and you are the one to attend the same. A youtube link will be provided for online viewers. Expecting your valuable presence
---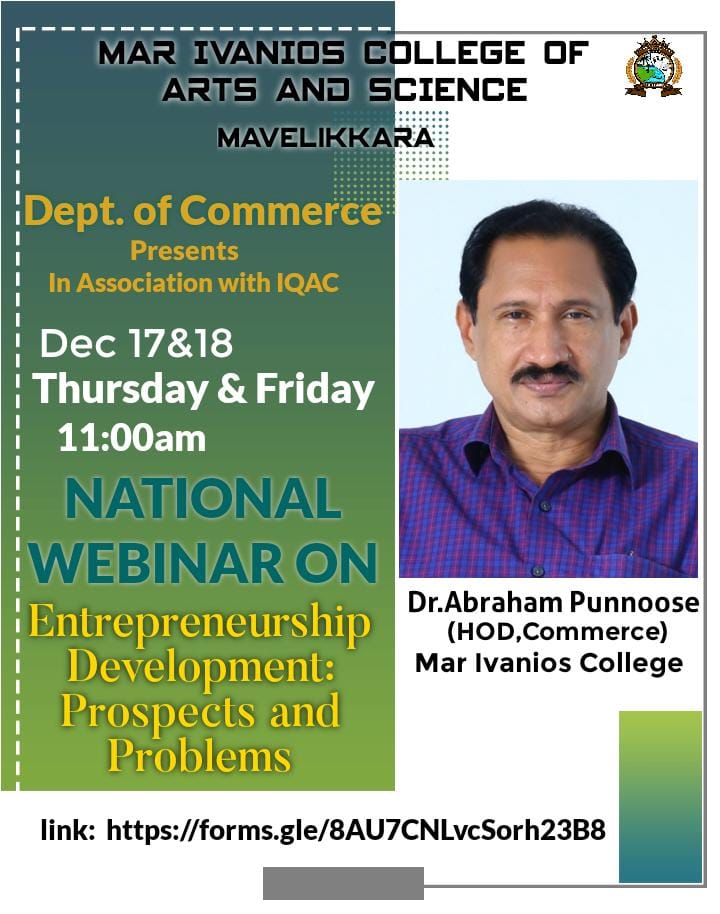 NATIONAL WEBINAR
Date :

17TH &18TH DECEMBER 2020
Dear Sir/Madam Greetings from Mar Ivanios College of Arts and Science, Mavelikara The Department of Commerce of our College is organizing a two day National Webinar on the topic " *Entrepreneurship Development: Prospects and Problems" * on 17th and 18th December 2020. Prof. Dr. Abraham Punnoose, Head , Department of Commerce will lead the programme. We would like to invite your institution to be a part of this webinar. Students, Faculty members and Researchers can participate. Time : 11.00 am NOTE : Limited seats are available. Register as early as possible. Admission on first-come first-served basis Webinar registration link: https://forms.gle/8AU7CNLvcSorh23B8 Last date and time for registration : 16/12/2020, 5.00 PM Meeting link will be send to your registered E-mail. Printable E-certificate will be issued after the submission of feedback form. For more details, reach us through commerce.marivanios@gmail.com 9656654122 Regards Team Commerce
---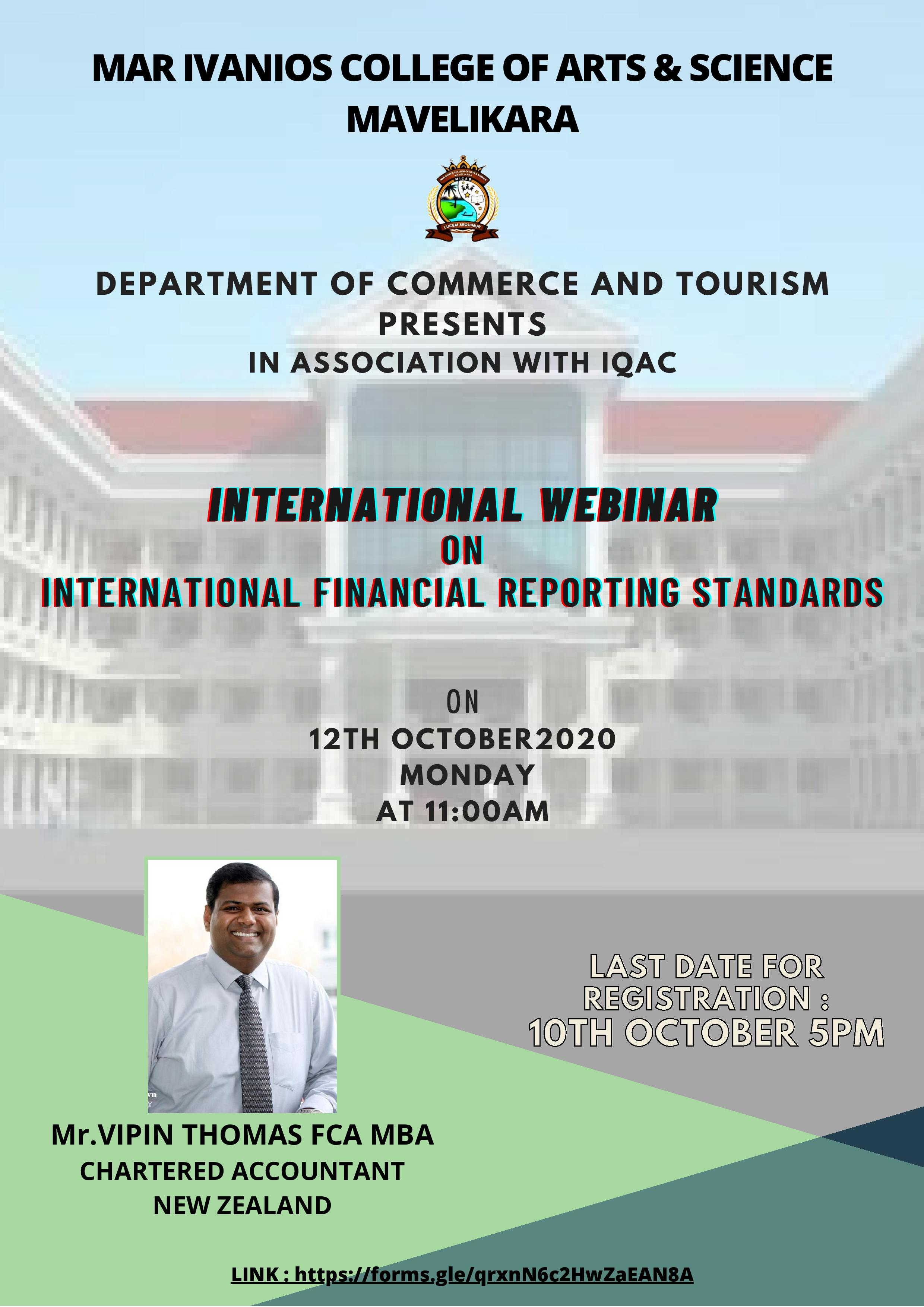 ---
NATIONAL E-QUIZ
Happy World Tourism Day !! 'Building peace, fostering knowledge' In connection with World Tourism Day, Department of Commerce & Tourism, Mar Ivanios College of Arts and Science, Mavelikara proudly invite you to the National E-quiz competition on 27th September 2020 from 9.00 am to 5.00 pm Topic 'DESTINATIONS AROUND THE WORLD' Participants who score 60% and above will receive a printable E-certificate to their registered e-mail. Participation Link : https://forms.gle/2LdF1igqtxrZHdAp7 100 Certificates per day could be generated. The rest will be received in the subsequent days. Regards Fr. Thomas Puthenparampil Director Prof.Dr.K.C Mathai Principal Prof. Dr. Abraham Punnoose HOD Ms. Tintu Anna Mohan Convener Ph-9656654122
---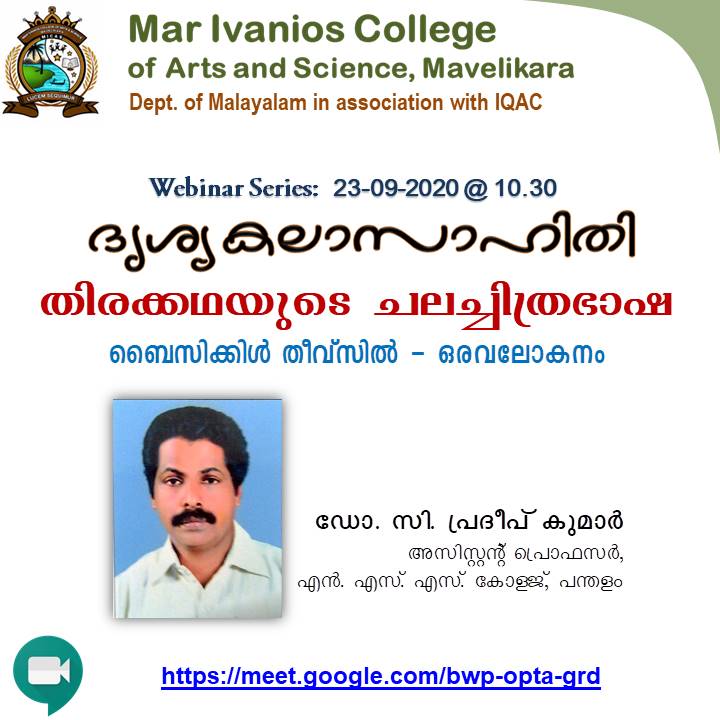 WEBINAR SERIES
Review of Bicycle Thieves
---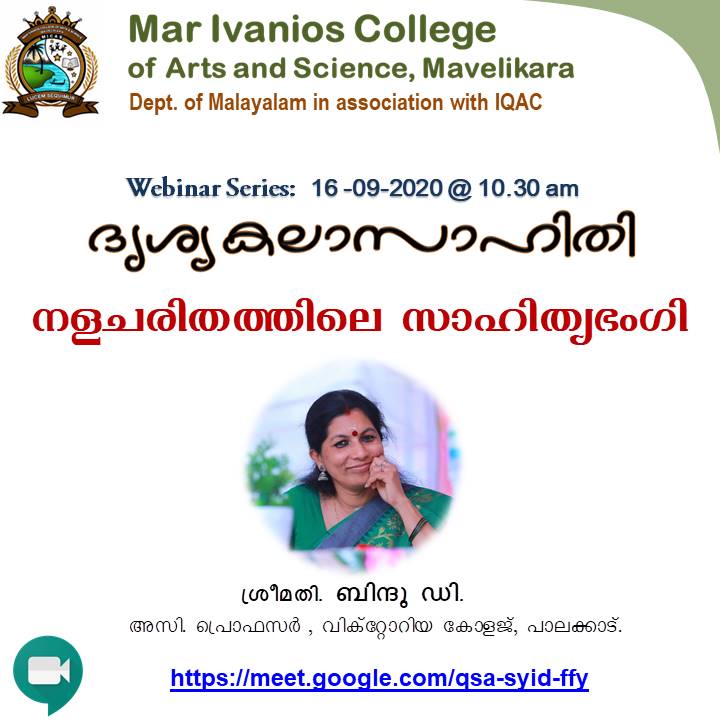 WEBINAR SERIES
Literature of NALACHARITA
---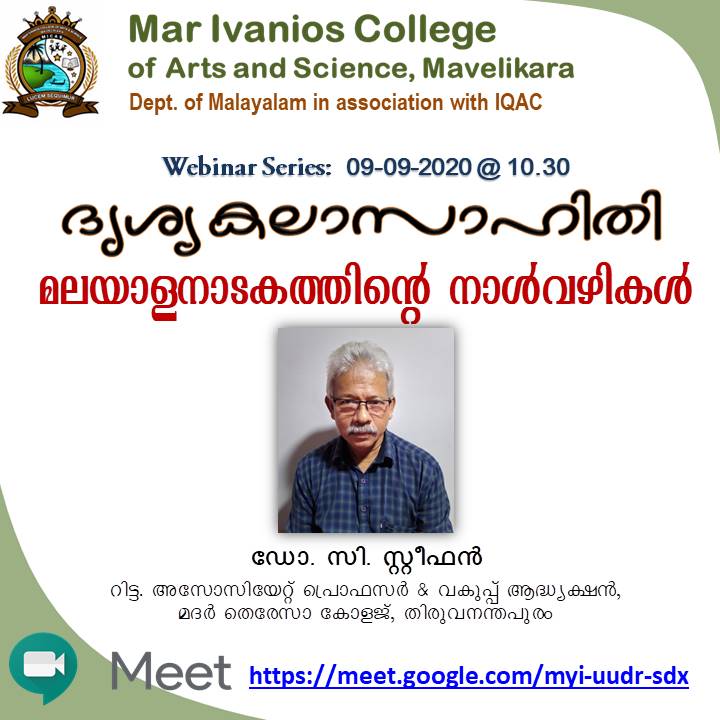 WEBINAR SERIES
History of Malayalam dramas
---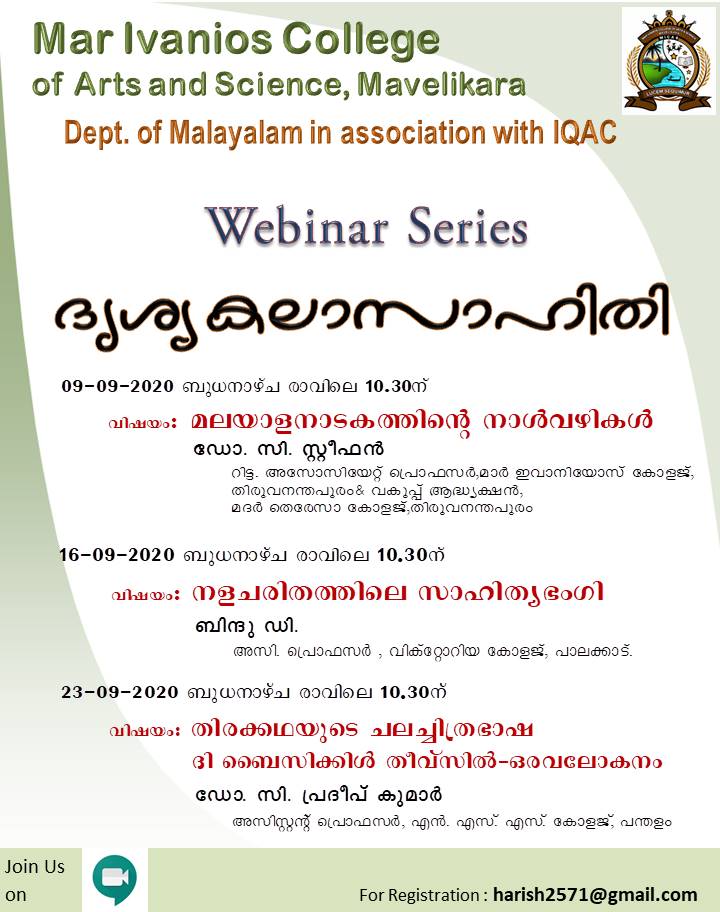 ---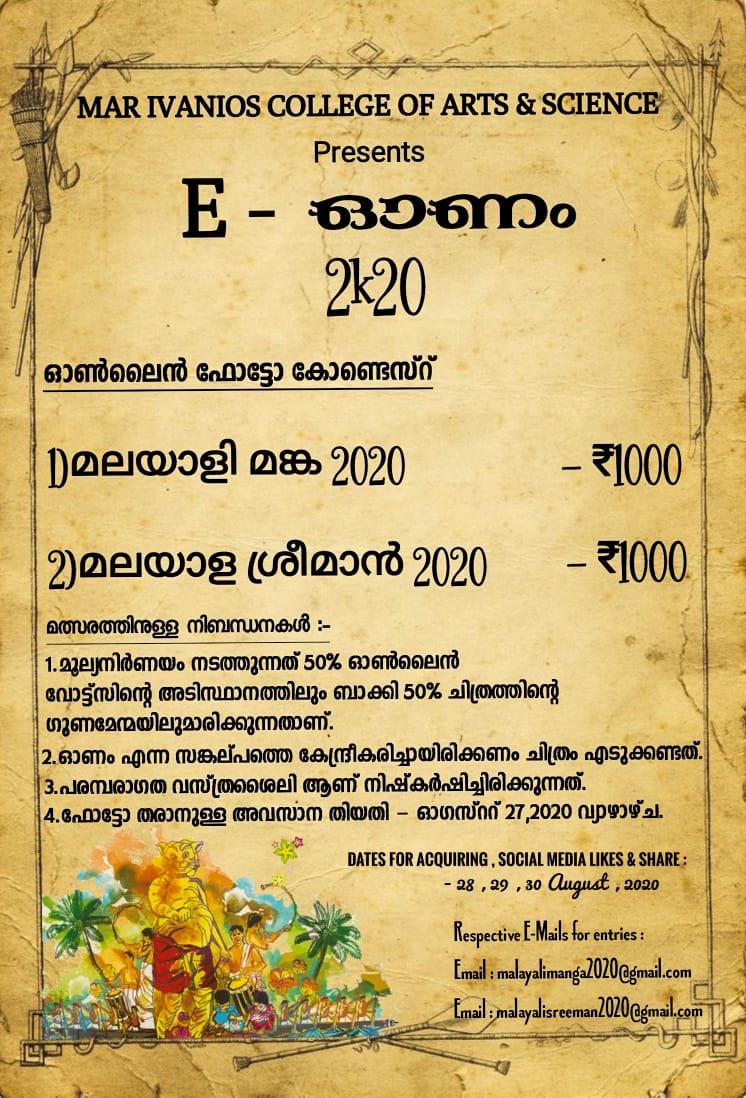 E- ONAM Malayali Sreeman&Manka 2k20
Malayali Sreeman&Manka Competition 2k20
---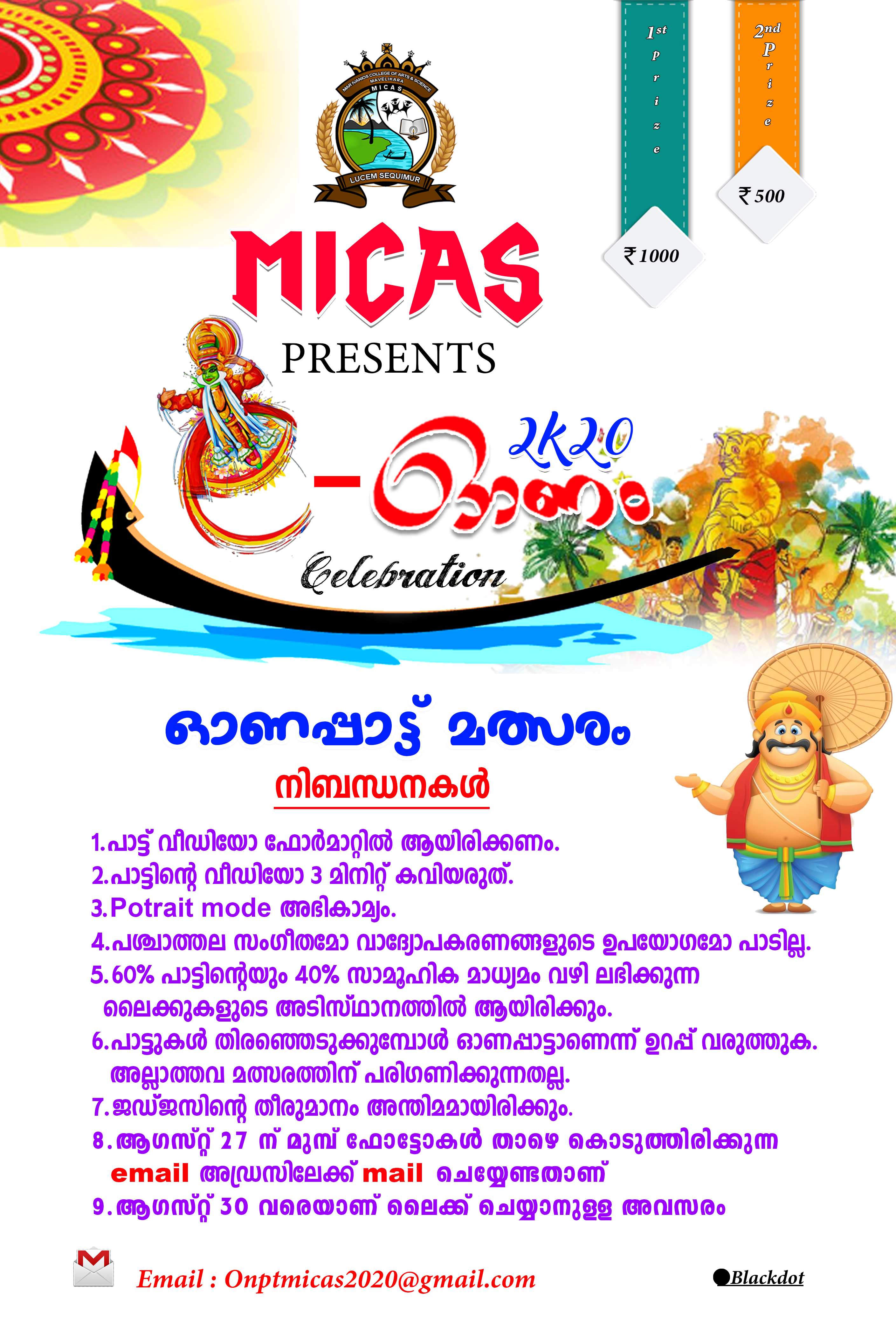 E- ONAM Onam Song Competition 2k20
ONAM SONG COMPETITION
---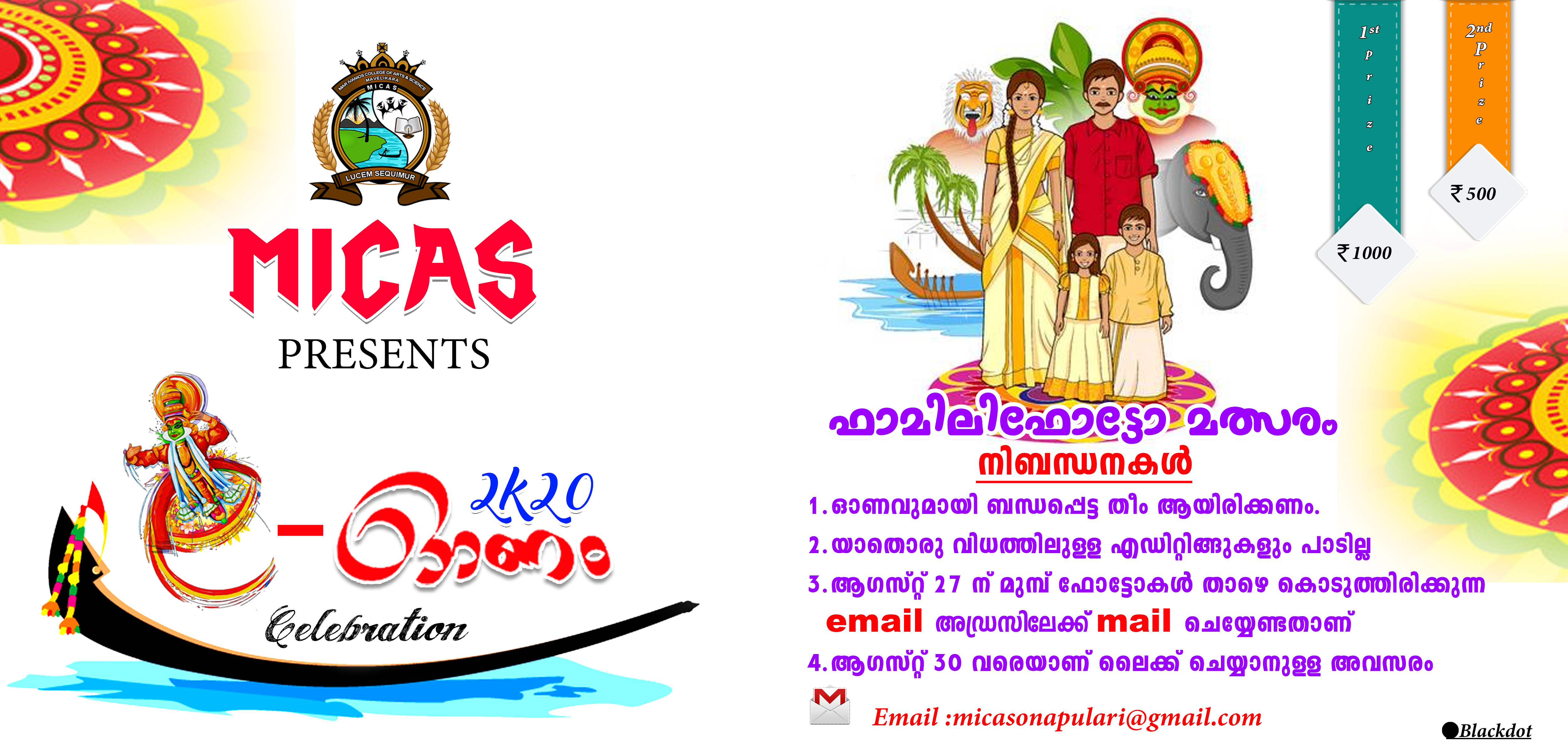 E-ONAM Family photo contest 2k20
Family contest
---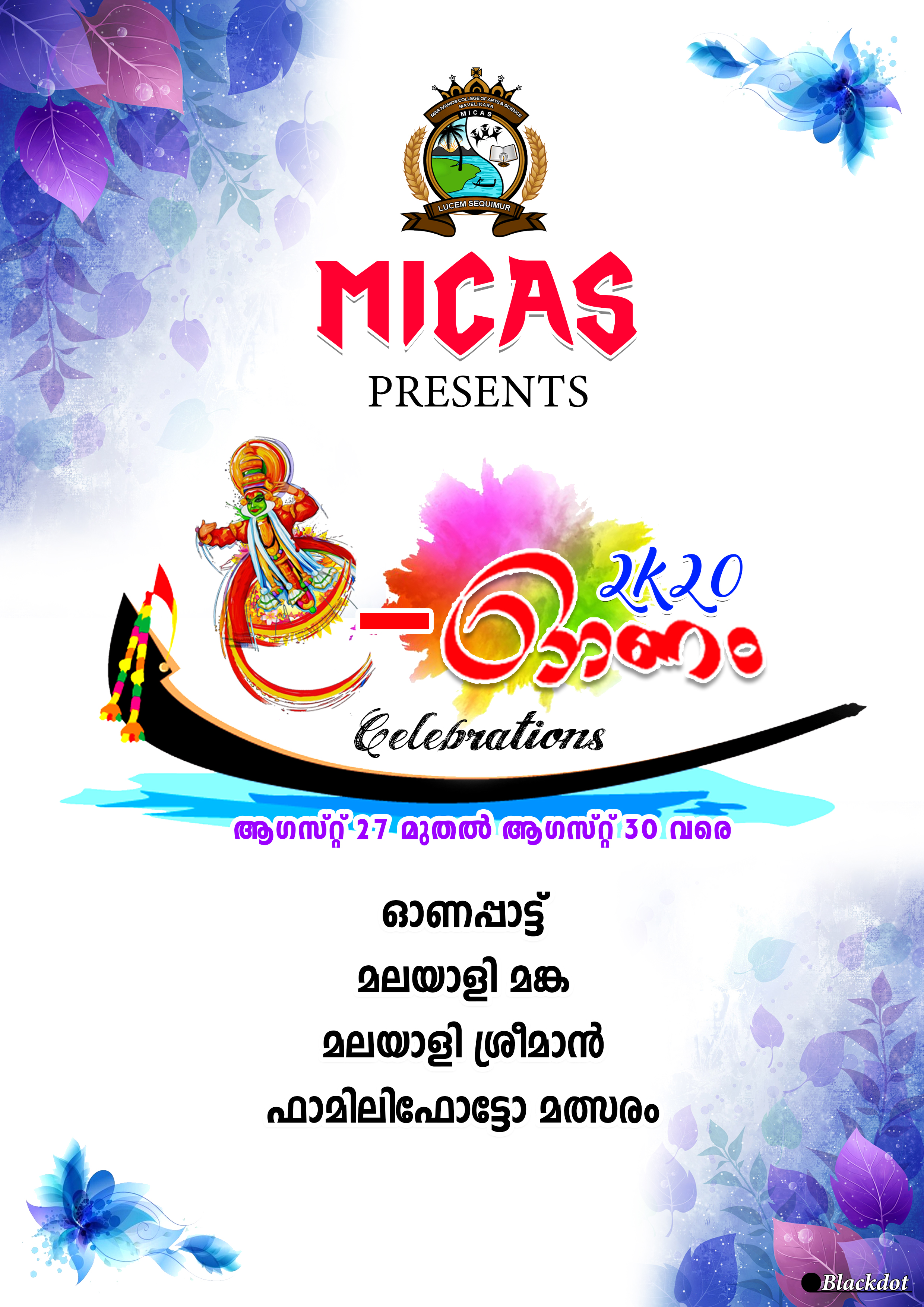 E- ONAM 2k20
online onam celebrations
---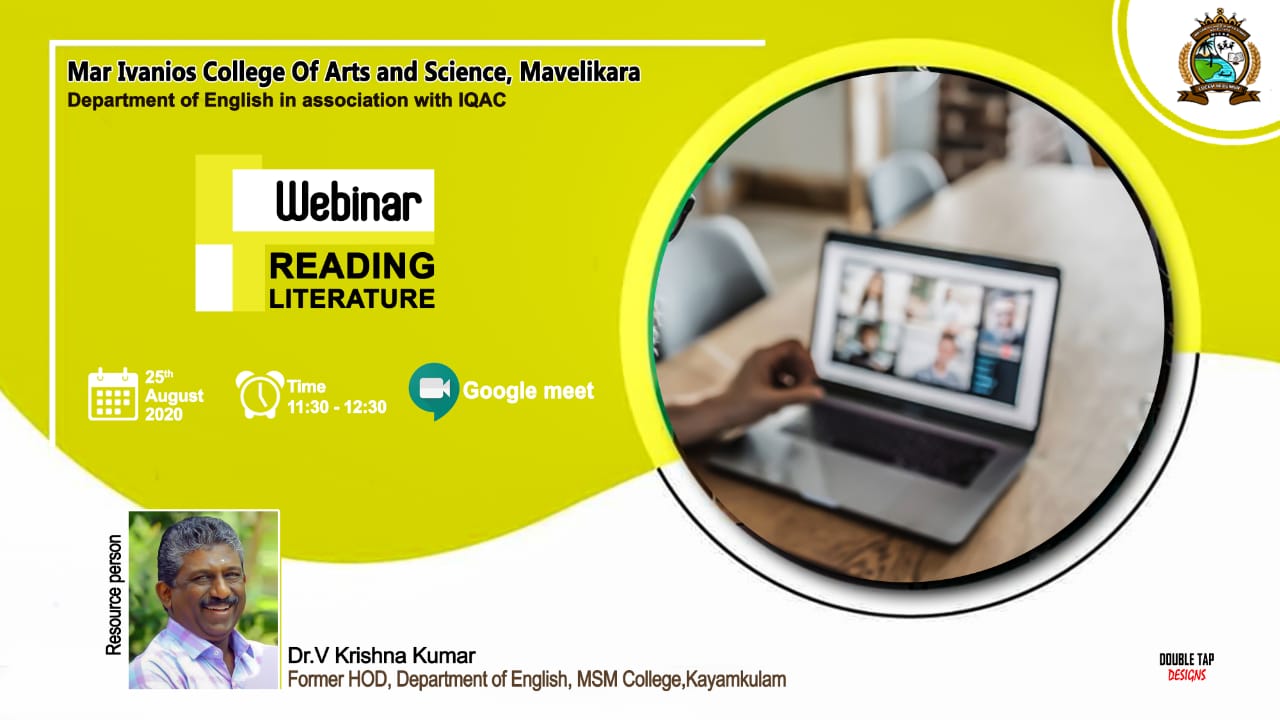 WEBINAR
The department of English, Mar Ivanios College, Mavelikara, are delighted to inform that we are organising a webinar on "Reading Literature" on 25th August, 2020. We are pleased to apprise that this short and informative session will be led by Dr. V Krishna Kumar, former HOD, MSM College, Kayamkulam. The webinar will be conducted on Google meet, from 11:30am - 12:30pm. Those aspiring individuals who would like to take part in this webinar can click the following link: https://meet.google.com/ijn-ddfx-iqm
---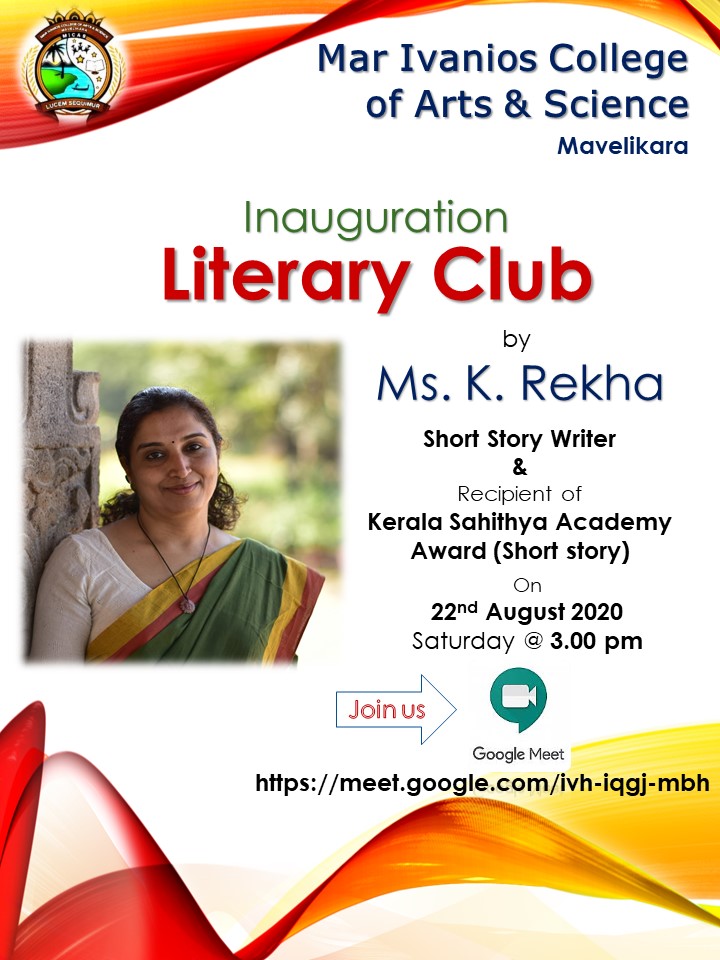 Inaugural Ceremony
Ms. Rekha, Kerala Sahithya Academy Award winner ,will inaugurate the LITERARY CLUB on 22 August 2020,Saturday at 3:00pm
---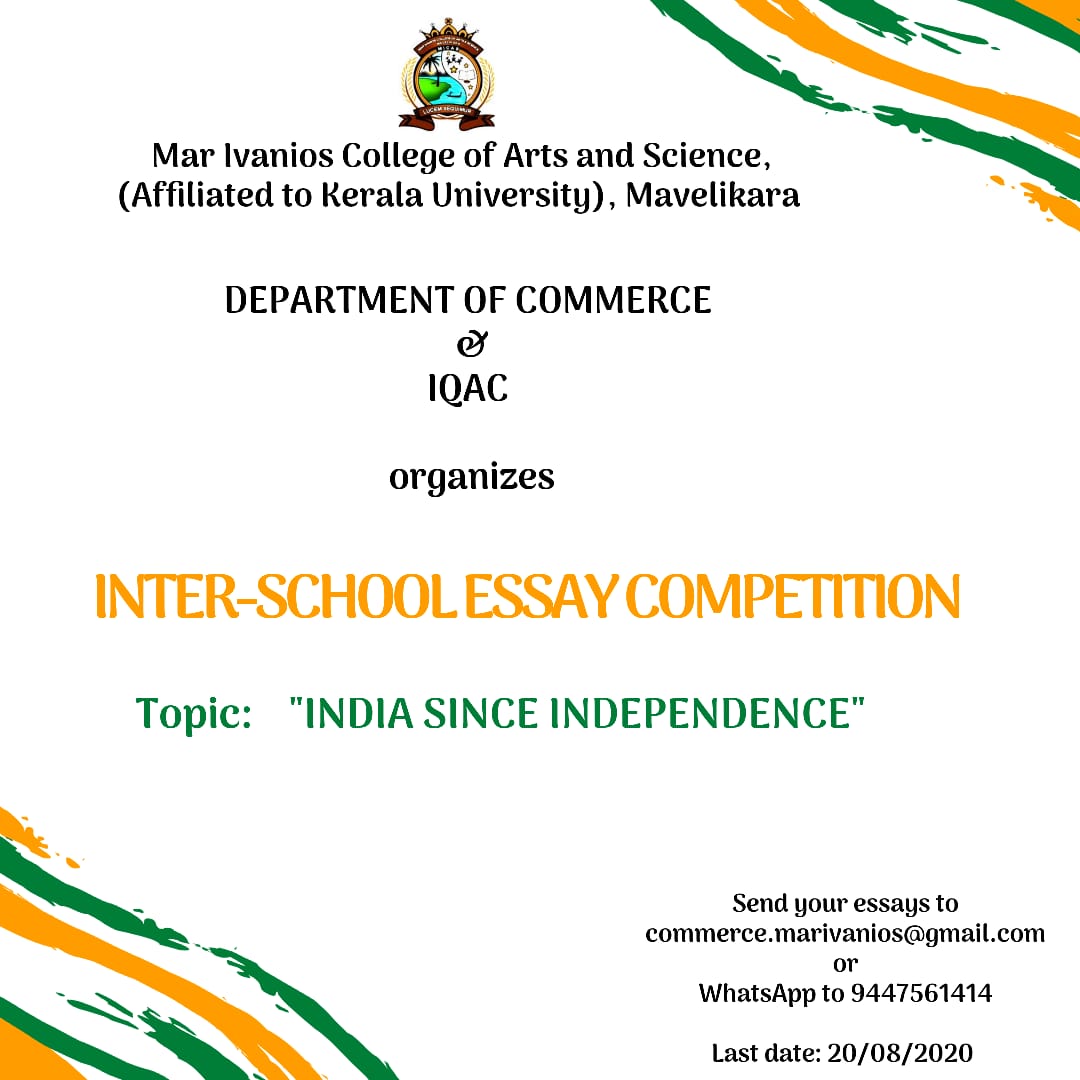 Inter-School Essay Competition
As part of Independence Day Celebrations, Department of Commerce & Tourism, Mar Ivanios College of Arts and Science, Mavelikara , is organising and Essay Writing competition in English for Higher Secondary Students in various schools of Kerala. Interested students are requested to submit their essays on or before 6 pm on 20th August 2020. Maximum number of pages limited to 6.Attractive cashprizes will be given to the winners who secured First & Second Positions. Topic: INDIA SINCE INDEPENDENCE Last Date: 6 Pm, 20th AUGUST 2020-08-10 ESSAYS MAY BE SEND TO : commerce.marivanios@gmail.com or Whatsapp to 9447561414
---
An Inter Natioonal Webinar
The Dept. of Economics is organising an International Webinar on the topic, " Covid – 19 Pandemic: Economic Impact and Policy Responses in India" on Friday, 14 th August 2020 at 3 p.m. The Manager of the College and CBCI Vice President, His Grace, Most. Rev. Dr. Joshua Mar Ignathios will inaugurate the Webinar. Dr. Philip M.P., Associate Professor( Retd.) & Former Head of the Dept. of Economics, S.B. College, Changanacherry will lead the Webinar. It is our great pleasure to invite you to participate in this International Webinar. N.B. Limited seats are available. Register as early as possible. Admission will be on first come first serve basis.
---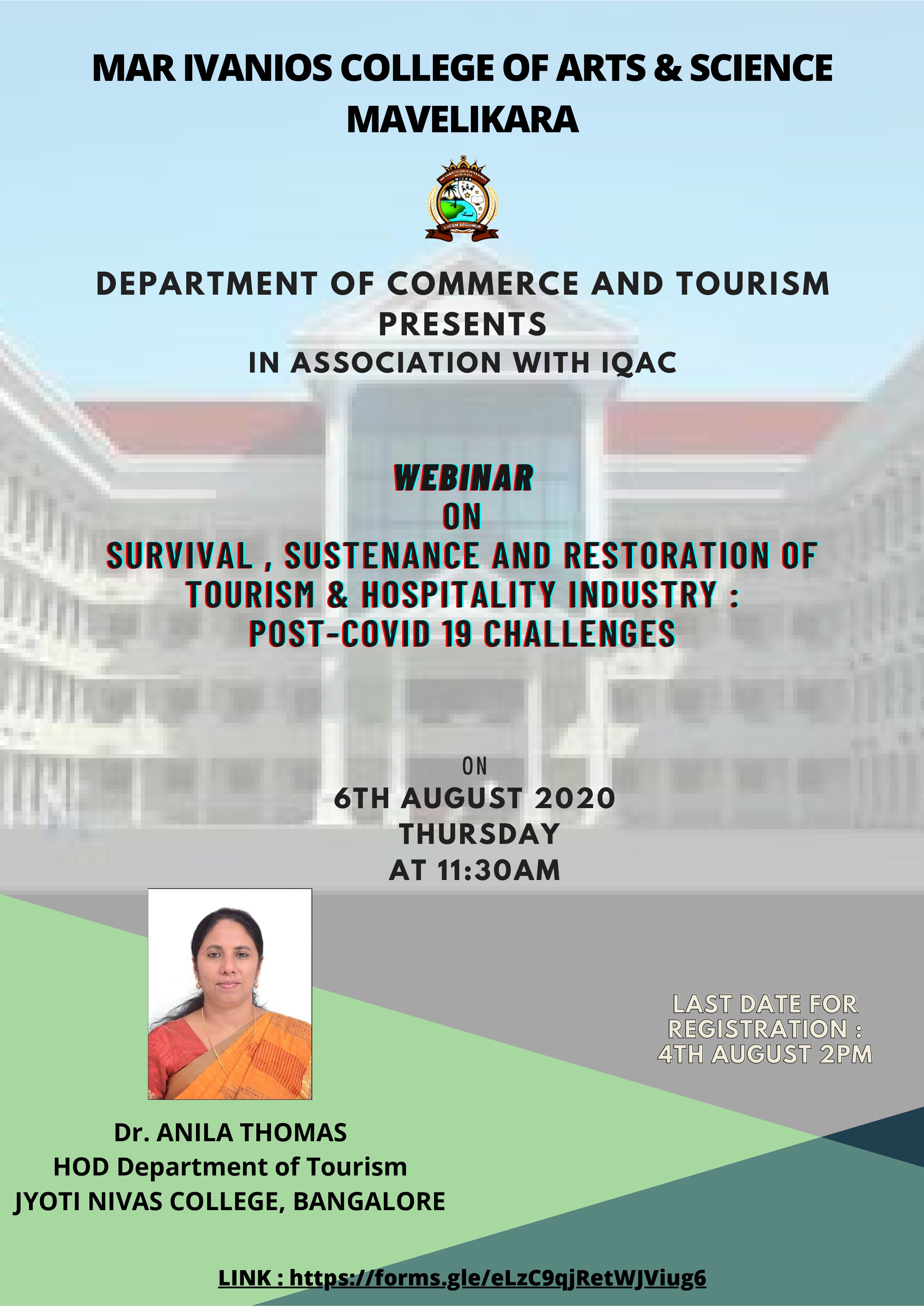 International Webinar
The Department of Commerce and Tourism of our College is organizing an International Webinar on the topic " Survival, Sustenance and Restoration of Tourism & Hospitality Industry: Post-Covid 19 Challenges" on Thursday, 6th August 2020. Dr. Anila Thomas, HOD, Department of Tourism, Jyoti Nivas College, Bangalore, will lead the programme. We would like to invite your institution to be a part of this webinar.
---
QUIZANIOS 2K20
LITERARY QUIZ Presented by ARCADIANS , Department of English
---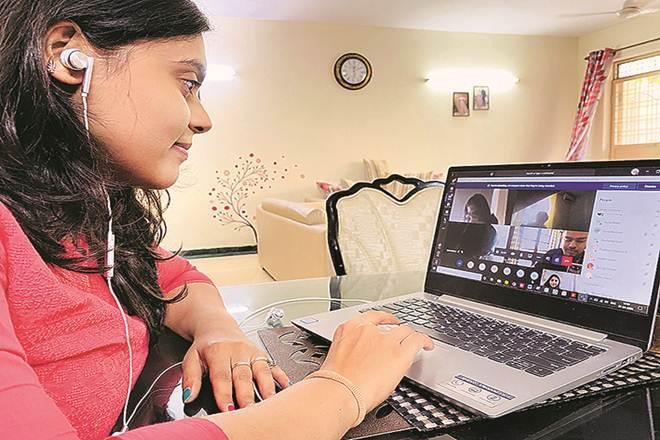 Third and Fifth Semester online classes started
Third and Fifth Semester online classes started on 17th june 2020
---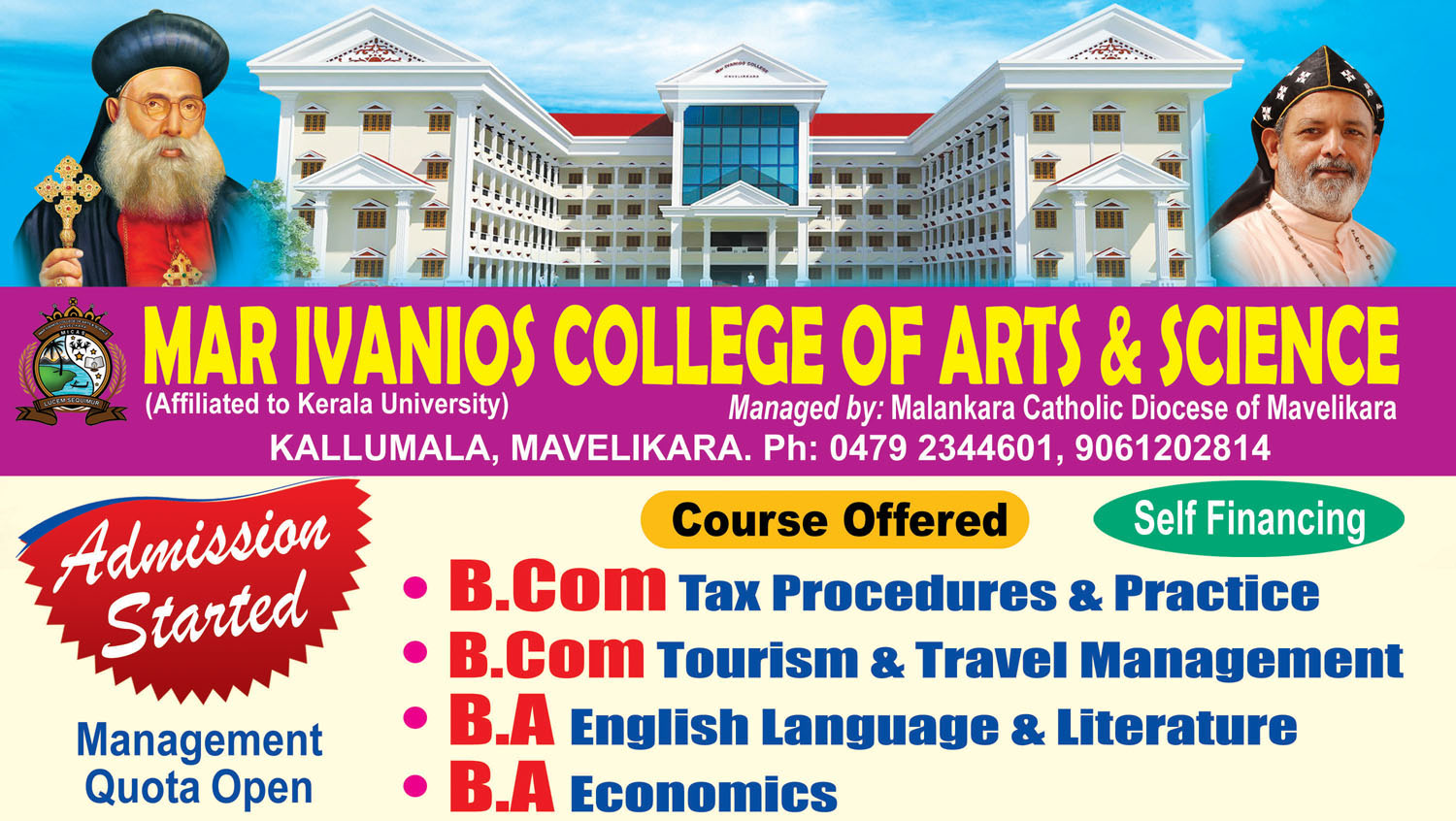 ADMISSION 2K20 STARTED
Admission is going on
---